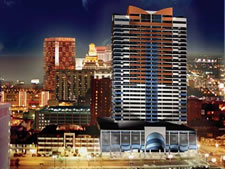 Still deciding on whether or not to accept the position.
After being interviewed by a recruiter from Fairfield Resorts earlier in the afternoon today, I was indeed hired for a sales/marketing position at Fairfield Resorts.
However, after being informed that I would be working every day (including Saturdays and Sundays at standard business hours), I began to question whether or not I should accept this job.
While it seems as though I would be earning a lot of money, I would also be working many hours a week. It is my preference to enjoy a couple days off from work per week (preferably Saturday and Sunday), so my position in regards to the matter remains undisclosed. Who knows what I will be doing in regards to a job?
Professor John Boyle, the man who taught me financial accounting when I was still at Stockton, responded to an email that I wrote to him about my frustration over the job market. His email to me was honest, kind-hearted, and open-minded.
Bryan,

First and foremost .... congratulations on graduating from Stockton. I was part of the faculty that attended the graduation ceremony and I actually saw you raise your arms in triumph when you received your diploma. I looked for you afterwards, but I could not find you among all of the graduates.

As far as getting a job, I can only empathize with your early frustration. The jobs that are available to many college graduates these days are sales positions, with pay that is based on "commission". Many graduates accept these positions because these are the jobs are that are offered immediately. It is a very tough way to make money and there is a very high turnover among this type of employment. You are not alone in this regard.

You do however have a college degree. This will open doors, and eventually will get you to a higher position over non-college graduates in any industry including Hospitality Management. Looking back at what could've been or should've been leads only to more frustration.

My oldest son graduated in hospitality management at East Stoudsburg University and did an internship at Ceasers in the Poconos. He did almost every entry level
positions at the hotel. After graduating, he decided that he did want to work weekends!....(its part of the business, especially in the early years) He is now trying to get a job with UPS. The degree will help, as he progresses to a management position faster than the non college graduate. However, he will have to earn a little less money initially.

You may want to try the Food Service companies like Aramark. They are usually 9:00 - 5:00, but the pay at the beginning is not great. At the very least it is experience and it could lead to advancemnent.

Another suggestion is that you go back and take some more classes or go for your MBA at night, emphasize this in your job interview and have the employer pay for your degree.

I know that eventually you will find a good job, and one that makes you happy. But, you must have patience. DO NOT GET TOO DISCOURAGED. You have a good head on your shoulders and from the few years that I have known you, you have integrity and a great work ethic. Trust me, it will pay off at some point.

In the meantime, stay in contact. If there is anything that I can do for you, please do not hesitate to contact me.

Best
Regards,

John Boyle
Basically he is stating that it is common for college graduates to be stuck with these sales jobs when they get out of school. These sales jobs are difficult for one to make money with, and as a result, there is an extremely high turnover in sales. He advised me to be patient, keep looking for a job, go to graduate school if I can do so, and gradually let the bachelors degree work in my favor. At this point in time, graduate school seems to be the most favorable alternative for me.
Who knows when and where I am going to find a Monday to Friday/ 9-5 job. At times, I do not even know what I want to do with this degree that I earned. The whole situation is quite scary. I will just have to keep my eyes open. I so desperately want to move away from home though.
So desperately. Lord knows when it is going to happen. I suppose I will continue to review my current prospects and search for additional ones in the process. Perhaps I will save some money and finally pay for the registration of that GMAT test. Graduate school is must. There is no question about it.
Currently, I have plenty of alternatives. Plenty of things that can be done. It is just a matter of arranging the order in which I make them happen. Much to think about. During the drive back home, I will have over two hours to do the thinking and coffee to keep me awake on the road while I think.
Yeahhhhhhh... coffee sounds
really
good right now. This coffee addiction is definitely getting out of hand.
Until next time, good bye South Jersey. Your loving and adopted son is once again signing out. But certainly not for good.