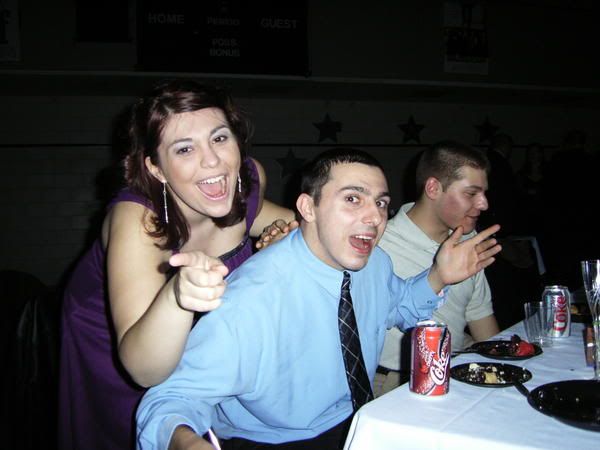 "This is better than sex."
Last night's Semi Formal was expected to be an event that would turn the clock back to a time when drinking was permitted on campus almost four years ago.
Instead, the VIP cash bar, which allowed those of legal drinking age to purchase a maximum of three drinks, illustrated that the chemically imbalanced Santa Claus that Stockton has as a president is still doing everything in his power to water down campus events at stockton. There were three types of wine -
Merlot
,
Chardonnay
, and
White Zinfandel
- and one type of the champagne.
How in the world were people at the semi formal going to get drunk from such a limited selection and limited amount of alcohol permitted. I probably drink more at the ally rallies I have at work than I did last night. Three glasses (shot glasses, it seemed) of wine permitted for each person. Those of us who were of legal drinking age entered the VIP Lounge for a little bit to get a drink or two.
As we were drinking, we started to make up acronyms using the first letter of each of our heritages. Ray was a FIG (French, Irish, and German) and I was a GIPE (Greek, Irish, Polish, and English). All of a sudden, really loudly in the lounge, Jack who is of the Jewish religion sarcasticly stated,
"And I am a KIKE!"
LMAO!!!
Who does that???
Nonetheless, I had a pretty fun time eating the snacks and taking dozens of pictures with close friends of mine. Those in attendance included Colleen, Frank, his buddy Erik, Ray, Melissa, Jack, Mike, Anna, and myself of course. We took pictures all night. Colleen and I went up to request more jazzy music. The DJ explained that he only had Glen Miller. We suggested that that was good enough. Never did he play any Glen Miller throughout the entire event.
Fair enough.
Afterwards, we all moved our asses to the Corner Tavern to more than just three shots of wine. Kristen met us at the Corner Tavern and Anna brought Erik over there as well. I must've drank like three or four Yuenglings. I also bought Ray a Yuengling for his birthday. We had a terrific time. It was delightful to be able to sit back, relax, enjoy some drinks and the buzz that came with the alcohol consumption, and just socialize with so many different people that I knew from school or the Stockton area. Great times.
After spending some time at the Corner Tavern, we decided to go to Galloway Diner for some grub. That is probably as predictable a move as one could make after a Stockton College or Stockton student/alumni-related activity.
While everyone was eating their food, Crazy Mike made quite an interesting, Mike-like comment, publicly suggesting in the diner that his jalepeno poppers were
"better than sex."
The crowd, at first, was completely shocked at what this man said for about five seconds, then the entire crowd at hand broke out in a fit of laughter. Even the cashier seemed to express the notion,
"son, are you out of your fucking mind?????"
She then openly suggested,
"The sex you have must not be all that good!
"
I was seriously cracking up over what this crazy kid had said. There is more to come, but we are all about to grab some food at the Food Court at the Hamilton Mall, so expect a second post related to this amazing weekend to come sometime in the very near future. Make sure you come back again very soon!
HOLLA!